We're proud to announce the release of Smart Reporting's "Cardio Package." This carefully selected assortment of 7 templates is now available to our international users in English and in German. The Cardio Package features a structured template for TAVI/TAVR among others including CT pulmonary embolism and CT Cardiac CABG.
These instrumental templates allow cardiovascular radiologists to report structured findings based on current ESCR guidelines. In coordination and with Dr. Rodrigo Salgado of the European Society of Cardiovascular Radiology and Dr. Alexander Bunck of the University Hospital of Cologne, the "Cardio Package" is now available to help optimize radiology workflows with complete, quality reports.
"It is very important for the radiology report that the information is easily transferred to the clinicians and the surgeons so that he or she understands perfectly what we want to say so that they can make the best possible decision for treatment and follow up of that patient," says Dr. Rodrigo Salgado, ESCR President 2019.
This unique package of templates features, among others, a TAVI /TAVR template, which is one of the recommended ESCR guidelines to evaluate candidacy for this minimally-invasive procedure. It was created based on consensus from ESCR and includes the most relevant, up-to-date standardization and imaging guidelines for cardiovascular radiologists.
This template for aortic valve replacement, also called TAVI (transcatheter aortic valve implantation) or TAVR (transcatheter aortic valve replacement), enables the creation of a structured report of a heart CT scan with a focus on measurements for pre-operative planning and post-operative therapy control of an aortic valve replacement. The template guides the user through precise reporting on the aortic valve, heart chambers, as well as supra- and infradiaphragmal vessels. To facilitate a complete report the template allows for reporting on the most common additional findings.
"As a senior physician in a large radiology department, I sign off on many reports every day. By introducing structured reporting, we have ensured that all clinically relevant aspects are taken into account in the reports prepared by our assistant doctors and adapted to the respective problem or pathology. The consistent, identical structure of the respective findings reports makes it easier for me to quickly review and release the findings reports," explains Dr. Alexander Bunck of the University Hospital Cologne.
The Smart Reporting Cardio Package includes seven approved templates to ensure complete findings and the creation of a quality, structured report: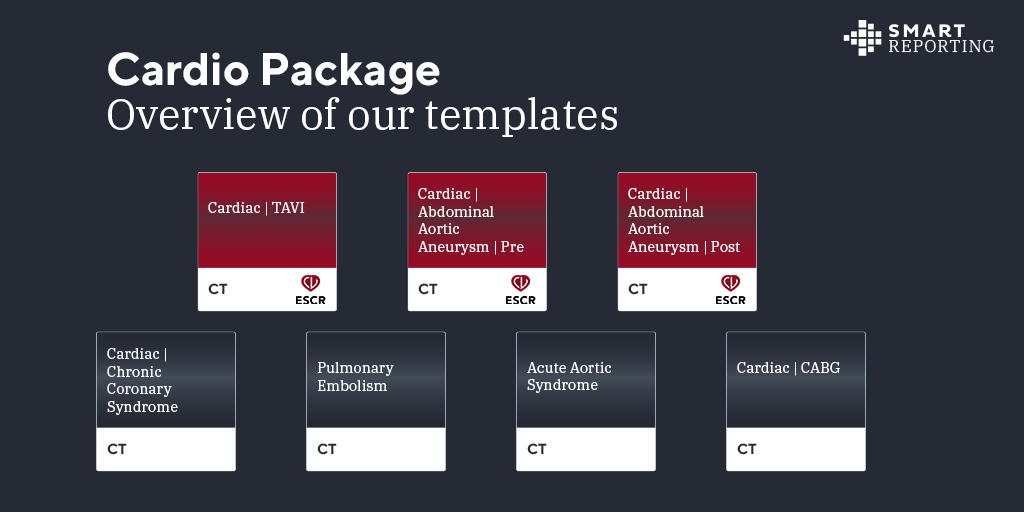 Want to learn how you can optimize your radiology workflows with Cardio Package structured reports?
Download our free brochure to learn more about our premium Cardio Package and how Dr. Salgado and Dr. Bunck use structured reporting templates to save time and improve their report quality.
Download our free brochure now!
You can learn more about structured reporting templates for cardiology in this video: