SmartReports
.
The voice-enabled, smart reporting solution
.
Reporting has never been smarter
.
Streamlining individual reporting styles, clinical workflows and medical guidelines. SmartReports - the editor for full flexibility, efficient and synoptic reporting in your daily diagnostic routine and beyond.

The smart reporting editor.
Synoptic reporting with flexible transition between structure and free text
Full efficency from examination to diagnosis
Capture minable data for automation and scientific use to harness the power of AI
Effortless navigation with speech, keyboard and mouse
Instant access to medical expertise and relevant information

through templates and modules

Seamlessly embedded into multidisciplinary clinical workflows, including reporting lifecycle management (e.g. junior-senior-workflow)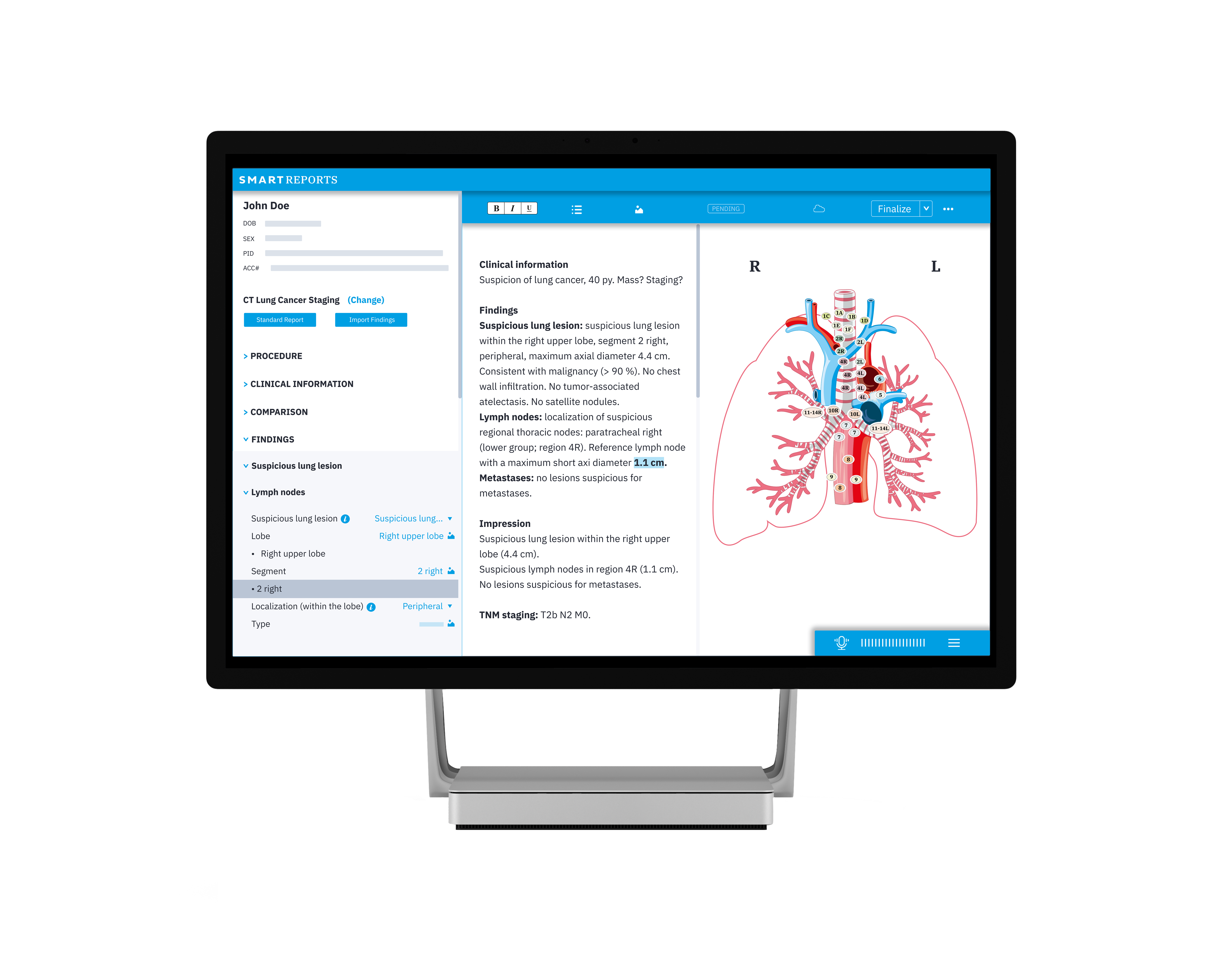 Faster Input

.
Reduce your reporting time.​

Better Output

.
Enhance report quality.
​

Smarter Care
.
Improve clinical communication.
Flexible reporting:
For all reporting preferences - voice or keyboard, structured or free text
Efficient workflow:
Modular and hybrid concept such as shortcuts and voice commands for all kind of reportings
Interfacing infrastructure:
Direct PACS, RIS and AI-results transfer through standard IT interfaces (FHIR and HL7)
High quality and consistency:
Improved completeness through accessible medical knowledge, guidelines and further quality assurance features such as mandatory fields
Ontology coding:
Common interoperability standards as ontology coding (e.g. SNOMED-CT)
Actionable data:
Minable data formats for Analytics, AI training and research bases as well as follow-up and further treatment recommendations
Interested? Get your Personal Demo!
Just fill out the form and we will schedule your personal, free Demo with you.