With nearly 20,000 registered participants, this year's RSNA annual meeting was again a major success, despite Covid-19 related travel challenges for many of the participants. The RSNA has a long history and is constantly growing internationally and living up to its role as the key event of the radiological industry. This was the sixth annual meeting for Smart Reporting, representing our contribution to "Redefining Radiology" and showing the future possibilities of diagnostic reporting.
During the four days our booth was a buzz of activity, we had a super successful agenda, non-stop presenting our products, innovations and concepts for the future whilst exchanging ideas with our partners and future customers.
One of the main events surely was presenting our successful collaborations with GE and Siemens and introducing our new software, SmartReports, integrated within their PACS, on their stands. GE has transformed their PACS with Edison True PACS and showcased Native PACS Reporting. We are very proud that SmartReports is part of this important GE Healthcare PACS transformation. Furthermore, SmartReports is also the reporting solution for Syngo Carbon, a modular, cross-departmental software environment from Siemens Healthineers. PD Dr. Thomas Huber, VP Solutions at Smart Reporting GmbH, was presenting at the "Imaging IT" corner at the booth of Siemens Healthineers every day, almost every hour during the show.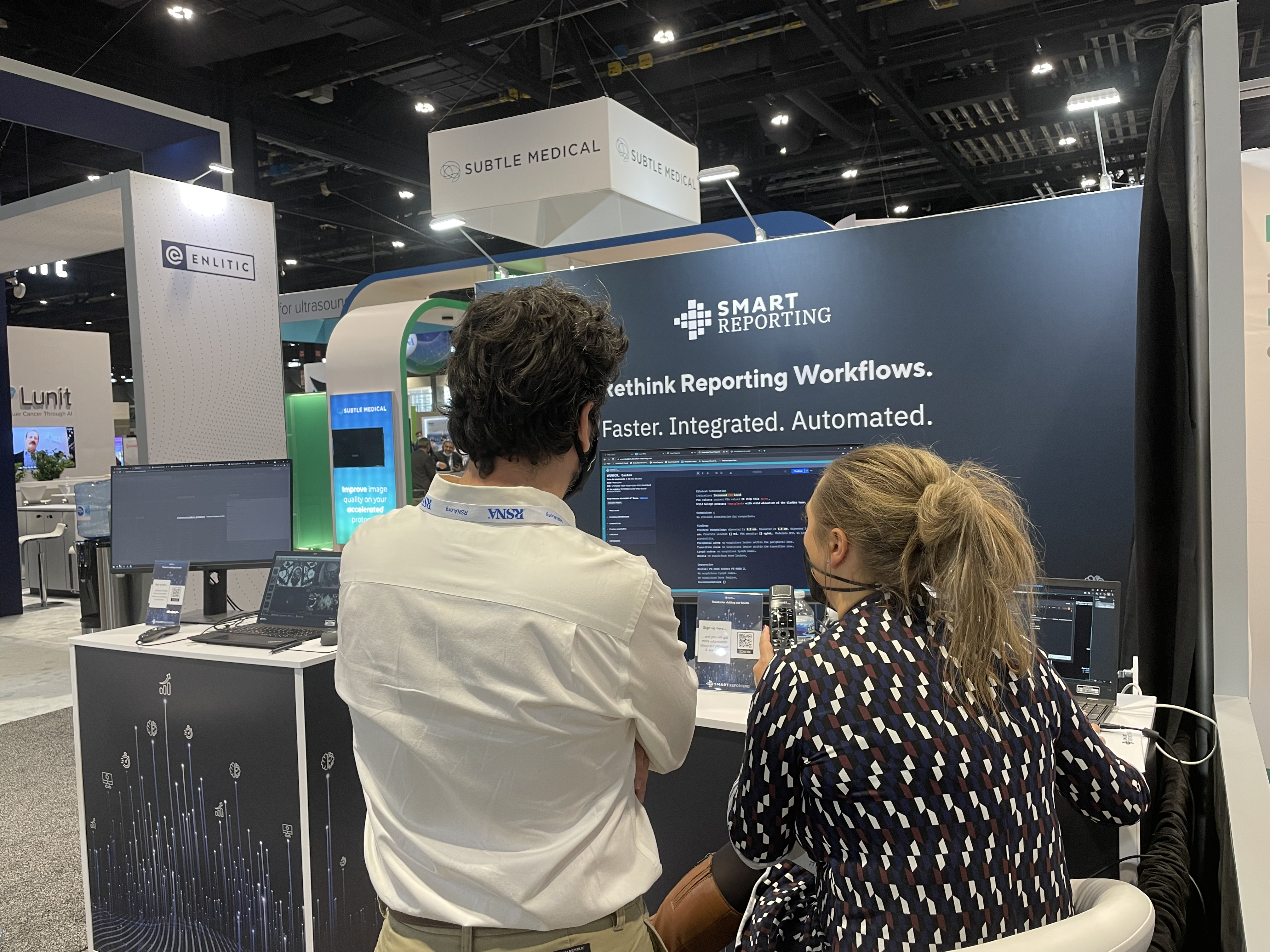 Thanks to the great attention we received at the RSNA we could seize the opportunity to build new partnerships and continued to increase the popularity of our products among international experts and leading industry companies.
In addition, we were delighted to be involved in the Imaging AI in practice (IAIP) arena where we could demonstrate our software, alongside other vendors. Within the IAIP we showed that if you want to work with AI in Radiology in the future, establishing structured reporting is essential. It is a pivotal factor to meaningfully integrate AI within routine clinical workflow, combining the AI output with other essential report data to efficiently and accurately produce a quality diagnostic report to inform a patient's carepathway. The response of our partners and customers at the RSNA certainly showed our endeavour to offer the required practical solution is well aligned with the market's future expectations.
We are already looking forward to next year's RSNA with our great team and planning an even more comprehensive agenda at a bigger stand.