Radiology Assistant & Smart Reporting
Guidelines & backround information at your fingertips
Being up to-date with the growing radiologic knowledge and the latest medical guidelines, like the Fleischner Society guidelines for pulmonary nodule reporting or the current version of the PI-RADS classification can be challenging in clinical routine. Radiology Assistant is a famous initiative of the radiology expert Robin Smithuis that provides up-to-date radiological background information for radiologists and educational tutorials (www.radiologyassistant.nl). We at Smart Reporting know about the need and the importance of having diagnostic criteria and guidelines right at hand when you read a scan. Therefore we implemented them directly in your reporting workflow. This avoids time-consuming web searches and enhances your productivity. With Smart Reporting you have immediate access to expert knowledge from Radiology Assistant and other content providers directly at your fingertips: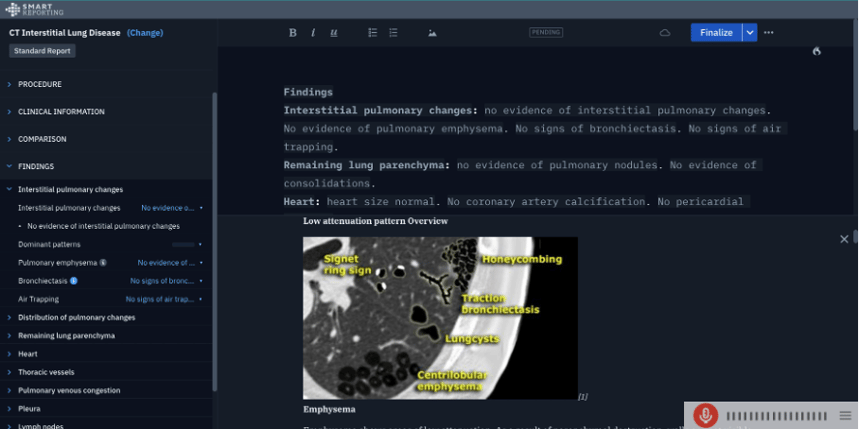 With Smart Reporting you have immediate access to medical knowledge from radiologyassistant.nl e. g. if you are reading a HRCT of the lung and you need an overview about different low attenuation patterns like in this example
Get to know SmartReports:
SmartReports
Faster Input - Better Output
With SmartReports you have the full flexibility for efficient and structured reporting.
Our smart reporting solution offers you a fully integrated editor that provides reporting templates across departments for your daily diagnostic routine.
Faster Input
Integrate SmartReports with strong partner systems such as RIS, PACS, Viewers & LIMS

Increase your productivity in daily routine with guideline-based reporting templates, implemented speech -recognition and -control as well as freely configurable text modules

Improve the completeness and quality of your reports, through expert and guideline-based content as well as medical background information
Better Output
The collected data is fully machine-readable and provides an excellent starting point for training AI Systems and for your underlying clinical research
Complete interoperability of data via standards and ontologies such as HL7, FHIR, FHIRCast or Radlex
Clear and time-saving communication between diagnosticians and referring clinicians through integrated lifecycle management
The flexibility of SmartReports allows you to complete and correct a highly qualitative and structured report in a time-saving manner - without any additional effort.