SmartWorX.
Collaboration, Documentation and
Connectivity
From a single source. Medical documentation and an interoperable worklist combined. From SmartReports to Smart WorX.
Smart, flexible, structured reporting.
Connected and location-independent
Imagine a smart solution that enables hybrid, flexible and structured reporting and unites fragmented IT landscapes in medical organizations in parallel. Wouldn't it be desirable to create an interoperability that facilitates clinical collaboration and makes location-bound work a thing of the past?
With SmartWorX, we make it possible. Take advantage of all the benefits of SmartReports combined with an intelligent worklist for location-independent working.
With SmartWorX we combine existing systems with functionalities and tasks in various departments and locations. We offer you a flexible and universal worklist control and management platform for standardizing and optimizing workflows, as well as documenting your patient treatment paths with SmartReports. In the process, you always have the results of connected AI systems at your fingertips.
Efficient collaboration, medical documentation and connectivity
Homogenizing the fragmented IT landscape into a consistent user experience is key. Instead of modifying workflows to fit different systems, we offer a solution that focuses on the needs of users. With SmartWorX we offer you a solution:
that provides a structured documentation environment through SmartReports.
that enables hybrid reporting: flexible switching between structure, based on medical information and guidelines, and free text with integrated speech recognition.
which ensures intelligent interaction between autonomous products.
which networks products instead of replacing them.
that can map a vendor-neutral worklist.
that enables resource utilization across distributed locations.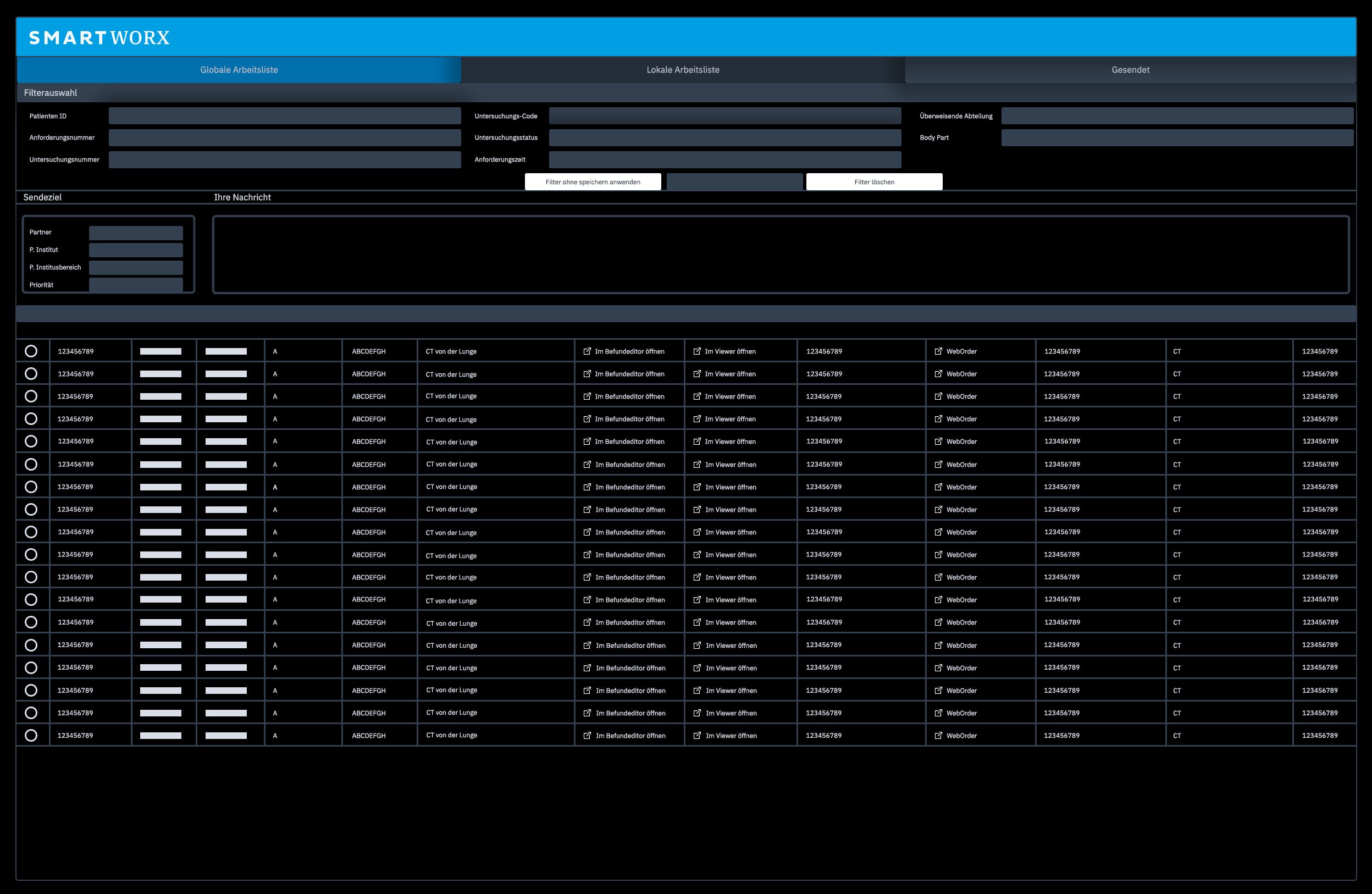 Unified Workflows
Merging fragmented workflows
Connect instead of replace: Avoid a "rip and replace" strategy
Manage system migration without lengthy disruptions
- Optimize and standardize your workflows independent of location
- Flexible and universal worklist control & management platform
Optimization of the diagnostic workload
Location- and Site-independent
Optimized prioritization of emergencies and critical cases
Location-independent resource allocation
Enable automation in report generation by incorporating AI-Algorithms
Monitor and provide cross-site analytics
Standardization of quality

Completeness and consistency of reports
Fully integrated and structured reporting with SmartReports
Improved communication in medical treatment processes
Ideal for clinical meetings, demos and tumor boards
Facilitate the definition of an enterprise-wide data strategy
Publish results for future-proof data
SmartWorX
Technical Details
Vendor-neutral open interfaces
Integrated speech recognition
Data infrastructure for cross-hospital collaboration
Image-based reporting / PACS reporting
Fully HTML5-based
Interoperable and integratable into existing IT landscape via standard interfaces (HL7, FHIR, FHIRcast, CDA)
Context-sensitive desktop integration for a user-friendly, more flexible and efficient way of working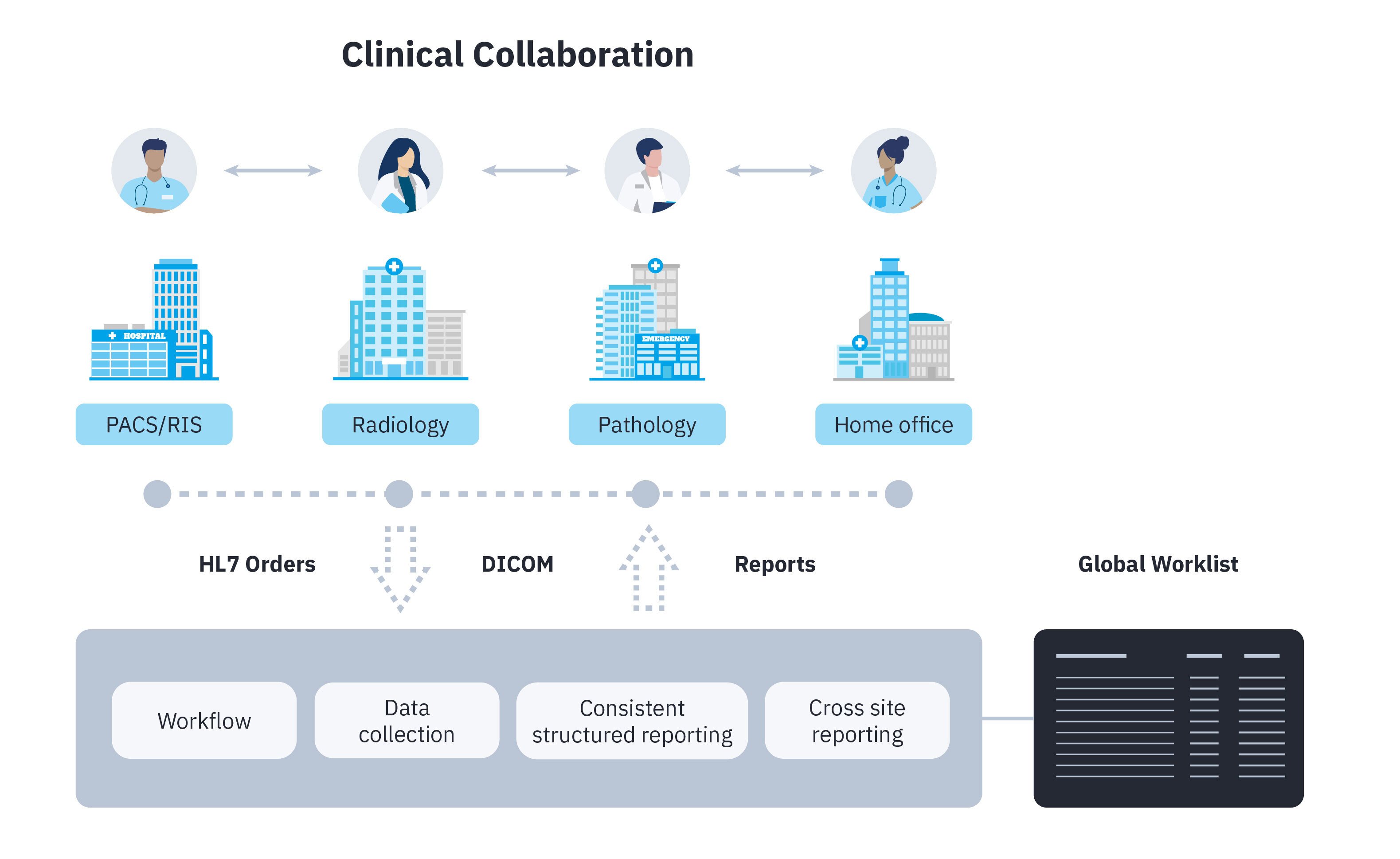 Developed for collaboration - in cooperation with our partner Pansoma:
SmartWorX was developed in collaboration with our partner PANSOMA. PANSOMA is a provider of flexible software solutions for technical and organizational networking in healthcare and a potential provider of the integrated worklist.

Interested? Book a live demo!
Just fill out the form. We will contact you and arrange your personal free demo.